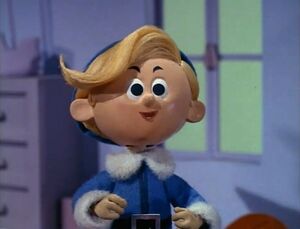 Hermey is one of Santa Claus' elves, and one of the protagonists of Rudolph the Red-Nosed Reindeer.
Hermey the Elf prefers studying dentistry to making toys, making him a social outcast among the other elves in Christmastown. Quitting his job as a toymaking elf after being threatened with the loss of his job for poor performance and for not "fitting in," Hermey declares he is running away from Santa's Workshop. He soon meets title character, Rudolph, in a snow drift and the two decide to run away together. They soon meet Yukon Cornelius, an eccentric arctic prospector who invites the runaways to join him on his search for silver and gold.
The two outcasts and Yukon Cornelius find themselves pursued by the Abominable Snowmonster. An escape from the Snowmonster on an ice floe brings the travelers to the Island of Misfit Toys. The Island is a sanctuary for defective and unwanted toys ruled by King Moonracer, a winged lion.
When the misfits return home, the other citizens of Christmastown, including Santa Claus himself, realize how harsh they had been to them. Rudolph and Hermey are welcomed back to Christmastown, and Hermey finally gets permission from his former boss to open a dentist's office at the North Pole the week following Christmas.
Hermey oddly did not reappear nor was even mentioned in the official sequels Rudolph's Shiny New Year or Rudolph and Frosty's Christmas in July, but he did return for the 2001 computer-animated feature Rudolph the Red-Nosed Reindeer and the Island of Misfit Toys.